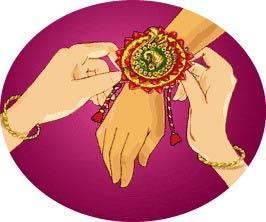 Happy Raksha Bandhan to everyone!
Here are a couple articles about Raksha Bandhan in Bollywood from the Times of India.
In the film Hare Rama Hare Krishna, Dev Anand launched Aman in his film as his sister who sizzled and was labeled a siren for decades to come. The portrayal of brother-sister in films has come a long way. Today, the sister's image has changed in Bollywood from the demure, to-be-protected lil one to a sexy, with-a-mind-of-her-own individual.

This Raksha Bandhan, we examine what's changed for brother sister duos in movies. From Nanda who played the sweet devoted sister to her three over protective brothers in Choti Behen to Neelam in Hum Saath Saath Hai, Bollywood has come a long way where the sibling relationship is concerned. New age films are reworking the dynamics shared by siblings. The sweet, patiently understanding sister of Gol Maal has been replaced by the sassy, girl-about-town in B-town.

Today, it's more about being a good friend to a brother. Abbas Tyrewala, the director
of Jaane Tu Ya Janne Na says, "The relationship between Genelia and Prateik was conceptualized in such a way that they would not fall into the normal category of a brother-sister. The film was as much about the relationship that was shared by Genelia and Imran
as it was about Genelia and Prateik."

According to Tyrewala, the relationship between a brother and sister in Bollywood has been over used in mostly hackneyed plots. "In
Jaane Tu Ya Jaane Na, the brother is concerned about his sister's welfare, but in a more subtle tone. It's a departure from past movies where the brother screams and vows vengeance because of his sister's rape/murder/distress.

The film it also explores the mind of the sister as she grows to learn about the goodness of her brother even, all the while maintaining her own identity," points out Tyrewala.

A film that was markedly different from the stereotype brother sister film was Josh. Although it didn't burn up the BO, it made decent returns. Aishwarya Rai Bachchan played the sultry twin sister to
a brash Shah Rukh Khan
. However, the film entirely veered around Ash and SRK with their respective love lives almost as a sub plot in the film. What is interesting to know here is that director Mansoor Khan was discouraged to cast this duo as a brother sister onscreen.

Says Sharad Kapoor, who played SRK's rival in the film Josh, "Both Ash and SRK were wonderful together. Their chemistry could absolutely be felt. Even while we were shooting, they would think of pranks and jokes on the sets, practically teaming up together to pull other people's legs. I guess that spirit got carried over into the film."

The character of the sister in Hindi films has mostly got a raw deal. At the most, she is doled out a few scenes in which she has to alternate between fawning over her dashing brother(s), and cracking silly jokes at him/them. The high point of her existence is tying a rakhi around her brother's wrist, which underlines her dependence on him. And if she is lucky
enough, she also gets to have a rakhi song with them.

But look up My Brother Nikhil and one would realize that Bollywood has stepped into new terra firma. Director Onir portrayed a genuinely close and affectionate bond between brother Sanjay Suri and his sister Juhi Chawla.

From sipping their first glasses of wine together, theis adorable pair even secretly smoked their first cigarettes together in the film. Moreover, rather unusually, brother Sanjay depended on sister Juhi, more than she did on him.

Juhi Chawla's role in the film was one of a saviour where she campaigned for her HiV+ brother to give him the respect that he deserved. A poignant film, it is believed director Onir dedicated it to his own sister. Onir adds, "I wanted to make a film on the relationship shared between a brother and sister. It's the most unique relationship between a man and a woman without any kind of give and take.

A sister goes out of her way for her brother because she feels for him. She wants him to be happy without any kind of expectations attached to her emotions."

Another film, which had the brother-sister relationship at its core was Khalid Mohamed's Fiza. The film explores the 1993 Mumbai riots, and communal tensions, through the eyes of Fiza played by Karisma Kapoor who was in search of her brother, Amaan (Hrithik Roshan) who vanished during the riots. Mohamed depicted a deeply caring relationship between elder sister, Fiza, and younger brother, Amaan, without resorting to any honour-saving stereotypes.

Says film critic Amod Mehta, "Bollywood is slowly, but surely coming around and realising the role of the sister in films. Today it's more about the characters and the script than about rehashing the same old formula.Most film makers
want to experiment with various concepts and ideas and don't shy away from taking up off beat topics. Initially, when the audiences were still getting familiarized with the world of Hindi cinema
, the movies used to be a blown up version of real life. It depicted what the society was in that era. However, now women too have undergone a change. They are independent, audacious, career women even as they balance out their roles as mothers, daughters, sisters and wives efficiently."

Here's looking at a new filmi bond between brother-sisters.
RakshaBandhan Bollywood ishtyle
In the Hindi film industry
, the number of sisters landing up at a star's place during Raksha Bandhan has always varied according to his box office rating.
Dharmendra, the heartthrob of the 1970s, incongruously collected as many sisters as giddy female fans on his way to stardom. When the good-looking man from Haryana arrived in Mumbai, his only relatives were hope and grit.

Women used the rakhi to get closer to him. Today, the 73-year-old actor
has graduated to a 'paji' (elder brother) to three quarters of the industry. Shashi Kapoor, the endearing flirt of the 1970s, also wore the most rakhis on his wrist on Raksha Bandhan.

Karisma and Kareena don't tie their cousin Ranbir a rakhi, but they share a warm camaraderie with him. Chunky Panday jokes
, "I used to hide on Raksha Bandhan day because I didn't want attractive heroines to tie me a rakhi."

For Priyanka Chopra, her brother Siddharth is the apple of her eye. "I constantly look for his approval on most matters," says didi Priyanka. "He is not only my kid brother, he is also a close friend."

Sisters like Mallika Sherawat and Manisha Koirala have gone out of their way to extend unconditional support to their brothers Vikram
and Siddharth. While Vikram manages Mallika's career and is a producer, Manisha has supported her brother's decision to be an actor.

Clearly, in this industry, the brother-sister bond and its traditional ties are reversible. Punam Sinha, wife of actor-turned-politician Shatrughan Sinha, who has been tying Subhash Ghai a rakhi for many years now, should know. Ever since Ghai stopped working with Sinha, the duo share a terse relationship. "Sinha often takes witty potshots at his saala (wife's brother) Ghai," says an industry insider.

However, Ghai says, "I'm extremely fond of the Sinhas and despite all our 'differences', we share a warm relationship. Unfortunately, I don't have a photograph of Punam tying me a rakhi in my albums. We have maintained the sanctity of the relationship and I didn't think the media would one day ask me about it."

Singing sisters Lata Mangeshkar
and Asha Bhonsle have the highest number and the most popular of film personalities on their list of rakhi brothers. India's Nightingale tied a rakhi to the late Sunil Dutt and Tamil superstar Sivaji Ganesan. Lata, who is currently in London, usually ties a rakhi to Yash Chopra and also thinks of Dilip Kumar
as her brother.

Then there are others who use the rakhi as a tool to further their careers. The rakhi bond is also used to lay to rest rumours. Heroines have assuaged the fears of their co-stars' wives with the line — 'He's like my brother'.

The old Indian habit of adding a prefix of relationship to a familiar name does not necessarily stop at a brother. The general impression is that Govinda's wife Sunita ties David Dhawan a rakhi. But she says, "He is like a father-figure to me."

According to Sunita, she respects him as much as her dad. A trade insider confirms that Dhawan feels so strongly for Sunita and the kids that he has taken it upon himself to resurrect Govinda's career.